It was almost like an established ritual and a clear schedule: one starts off with patiently looking for a parking space down Kalayaan or in the inner veins of what once was a sleepy neighborhood in Makati; choosing a spot to devour Mexican tacos, vegan fare, or a plateful of fresh oysters; and then heading up to one of many roof decks or bars in the area to drink and dance the night away.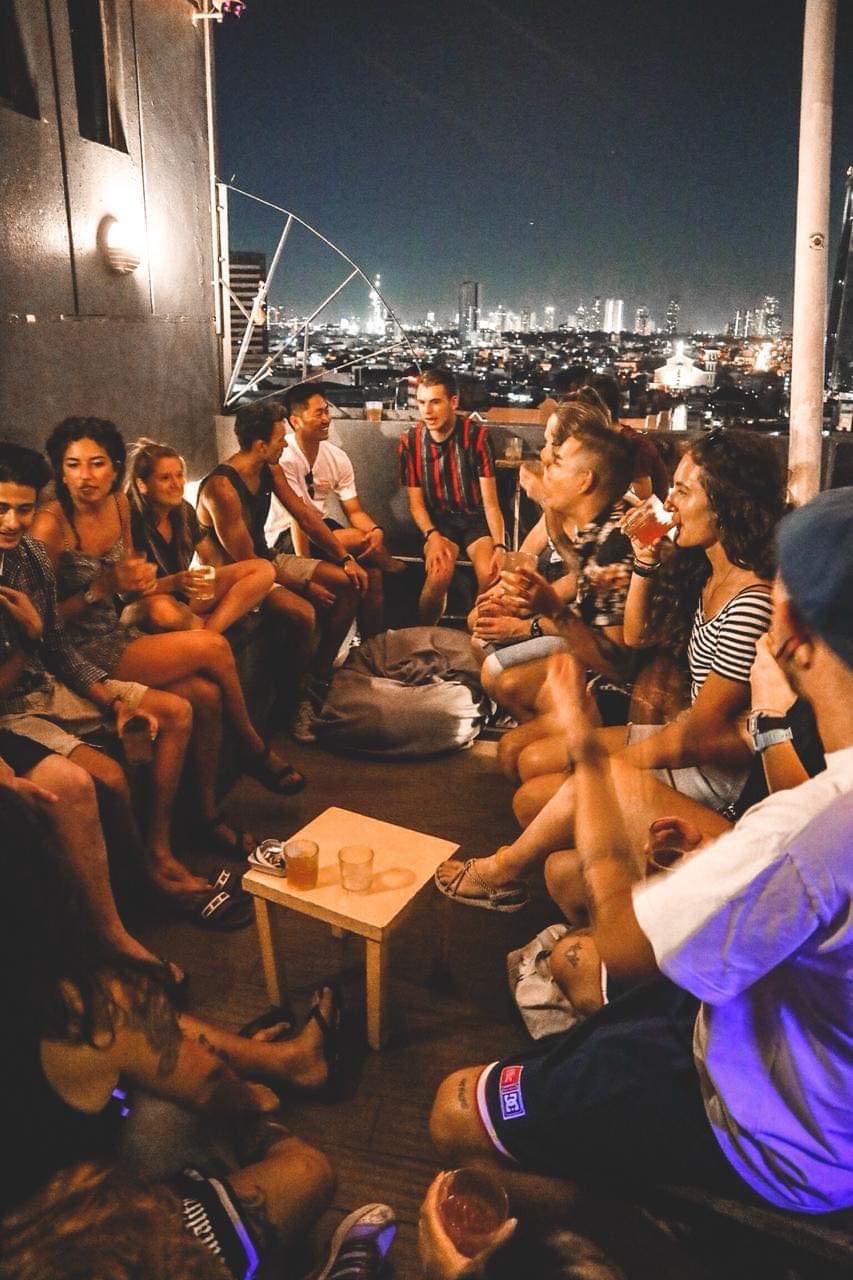 But in a blink of an eye, doors were shut, streets were emptied, and upbeat music was replaced with deafening silence. It was not just the hip district of Poblacion that saw the drastic and somber change — but the rest of the world. The entire travel and tourism industry was hit hard by the COVID-19 pandemic, as borders were closed and all of us were told to stay safe at home.
The doors of one of the neighborhood's most well-loved places — and which paved the way for Poblacion's transition into a dynamic lifestyle hotspot — fortunately remained open, albeit with striking differences from what it used to be pre-COVID. Z Hostel was faced with the same questions as most leisure and tourism establishments had to deal with: to take an indefinite rest or to rise up to the challenges? 
The First Wave
For Z Hostel, and many other tourism accommodations, hitting occupancy rate targets or even booking out a few rooms were impossible. As the virus broke out, most incoming international and domestic flights were stopped, and government regulations ordered the tourism and leisure industry establishments to pause normal operations.
The owners had to think on their feet, as there were still checked-in guests staying in Z Hostel who could not leave the country. Long-term stay on special rates were offered, but still with the same brand of hospitality and personalized service that Z Hostel has been known for through the years — six to be exact. The hostel also offered long-term packages for company employees around the area, who needed a safe and convenient place to stay, especially when public transportation was very limited.
Safety and sanitation protocols were also strictly implemented inside the hostel, including temperature check (CHECKS) at the entrance, social distancing in all areas, contactless check-in and payments, deep cleaning of rooms and linens, and regular sanitation of the entire establishment. 
Rising up to the challenges
Gatherings inside indoor establishments were also frowned upon and discouraged, so Z Hostel initially turned to take-out and delivery of their Cafe's signature dishes such as Adobo Flakes, Sisig, and sumptuous sandwiches. 
As regulations slowly eased over the months, Z Hostel started welcoming guests again to their popular Roof Deck, rearranging the set-up like a restaurant. Following social distancing rules and limited seating capacity, guests can now safely enjoy munchies and drinks in the lovely outdoors — all while soaking in the sweeping views of the Manila skyline.
Z Hostel's scene is never without good music. And while the rest of us chose and still choose to stay at home, the fun never ends. The hostel has been hosting live streaming of music performances by local artists and international DJs — virtually clinking glasses with each other through Zoom and dancing inside our bedrooms while tuning to Z Hostel Radio. 
And at a time when strengthening our immunity is more important than ever, Z Hostel launched its own line of organic juices and all-natural beverages. It could not have been offered at a better time: Vitamin Z boosts you up with vitamins from its concoctions using carrots, apple, cabbage, ginger, and other vegetables, while keeping you refreshed in these stressful and turbulent times.
Towards Better Days
While tourist arrivals are at an all-time low, Z Hostel is taking advantage of its outdoor spaces to accommodate guests and patrons for now. If you have been feeling tired with your Work From Home set-up, how does Work From Hostel sound? Z Hostel Roof Deck will soon serve as an option for workers and freelancers to have a change of environment when working, complete with power sources and charging stations, safe seating arrangements, and snacks and drinks in between your meetings. Plus, you'll have stunning skyline views as your Zoom background.
At the helm of the kitchen is Chef Jerome Valencia, Vice President for LTB Philippine Chefs Association and Culinary Lecturer at LPU Manila in Intramuros, who refreshed the hostel cafe's menu with sumptuous additions like Double Fried Chicken and Street Ramen choices. More selections are lined up once the hostel can welcome more guests again.
The hostel's Sun Deck, located on the topmost area of the building (yes, higher than the Roof Deck), is also in the works. It will be adorned with lounge chairs, bean bags, and a music deck for an ultimately elevated kind of fun, with unobstructed views of the city.
It might take awhile before things go back to normal, if they ever will be. None of us knows when we are going to be able to high-five or hug each other again, when we can dance shoulder-to-shoulder during weekends again, when Poblacion's streets will be filled up with scores of people enjoying a fun Halloween or Independence Day party again. But one thing remains: Z Hostel will always be open for good vibes. And we will never cease to hope for better days.