If you've been traveling, still on your way to start your journey, or just plainly a huge Leonardo DiCaprio fan, there's an 80% chance you've already seen "The Beach" at some point in your life. Now try to remember the scenes: Unbelievably crystal-clear waters, immaculate powder white sand, lush limestone cliffs. Just you, the beach, and pure bliss. Now imagine all those twenty times over. Or maybe fifty times. Welcome to El Nido, Palawan.
The real "The Beach"
It's no surprise some local accounts say that Alex Garland, the author of the novel 'The Beach" to which the movie was based upon, was actually staying in El Nido when he wrote the book but shot the movie in Thailand for commercial purposes. I guess it's blessing in disguise as El Nido still remains to be untouched and unspoiled, truly a paradise before your very eyes.
Just one of El Nido's spectacular islands
Magical, enchanting, too good to be true. You'll probably run out of words to describe El Nido once you start hopping on a small boat on to spectacular islets, gorgeous coves, hidden beaches, and sparkling turquoise waters and thousands of colorful fish in between. The island tour is the main attraction in El Nido. There are 4 tours namely A, B, C, and D and each would visit up to 4-5 different places. Each tour would cost from Php1000-1200 and can be easily booked through the several operators around town. If you're pressed with time, take tour A and C.
Nacpan-Calitang Twin Beach
Because there's no such thing as too much Vitamin Sea, spend an entire day in a secluded beach about one hour away from the main town by motorbike. Nacpan-Calitang Twin Beach is paradise within paradise, if there's such a thing. As the name suggests, it is a gorgeous two-faced beach: one is a long stretch of palm-fringed white sand while the other one is a rockier version. It is quiet, dreamy, and almost out of this world. Climb up the cliff on the other end and you will see a view of the twin beaches that will take your breath away and split your hearts open.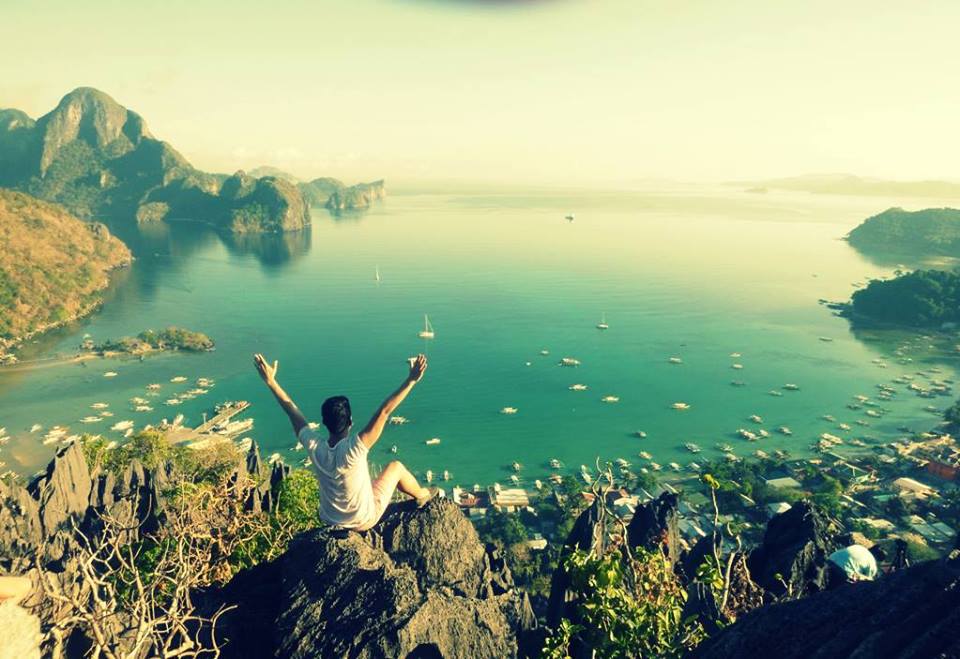 On top of the world: The glorious view of Bacuit Bay at Taraw Cliff
Back in the main town, you can also climb up Taraw Cliff if you are feeling a little adventurous. Actually no, it's a "go hard or go home" kind of decision to make. Only steep and sharp limestone karsts and no flat trails from bottom up so you better be ready for a heart-stopping climb. But once you get to the top, you would thank the inner Lara Croft in you and just be at awe with the glorious view of the Bacuit Archipelago.
There are far more beautiful things left to be said about El Nido. But i'll leave it all up to you to see, discover, and explore. Now book that ticket and enjoy paradise — fifty times over!
Getting There
From Manila, take a plane to Puerto Princesa. From PP, you can take either a van or bus to El Nido. There are airconditioned vans waiting right outside the airport for Php600-700 one way. Buses are cheaper at Php400-500 pesos but you have to go via tricycle to San Jose Bus Terminal from the airport.
If you're feeling a little luxurious this time, ITI (Island Transvoyager Inc) flies to El Nido from Manila direct ranging from Php5000-6000 one way.