Its name may not be as popular as Baler, its swells may not be as frequented as La Union's. But its gentle waves and sloping shores make it a retreat from the city definitely worth the drive or a bus ride. Step into the sleepy yet special town of Liwliwa in Zambales: where surf is the heartbeat and serenity is soul.
Just about four hours away from the bustling and busy Manila, Liwliwa has become an alternative to the more famous surfing spots up north. From the main road of San Felipe, Zambales, a narrow crossing with a small town marker and a hostel's name stand (they're not too noticeable so be mindful) leads one to the quiet town of Liwliwa. What instantly captures the attention are the pine trees dotting the road sides, an interesting twist to the tropics.
Structures with thatched roofs, surfing boards, and colorful artwork officially welcome one to Liwliwa. These hostels and inns perfectly fit into the scene: they are homey, rustic, and soulful. The accomodation is simple but it's actually everything the place exudes and what a weary soul longs for: away from the hustle and bustle, close to nature, and back to basic.
A quick walk through a smaller alley still lined up with pine trees takes one to the beach. Finally, clear blue sky, roaring seas, and fresh air! The beach is wide, unspoilt, and empty, save for a few huts made out of drift wood and coconut leaves.
Honestly, it cant rival the shores of Boracay, Cebu, or Palawan but there is something about the place that draws you in instantly, that makes you feel home and at peace. It is chill as chill can get.
Many of the travelers prefer to just laze and lounge around the shores and take the relaxing atmosphere in but some take the call of rush and head on to surfing Liwliwa's waves. Almost all hostels and restaurants offer surf lessons with locals as instructors and they very much welcome beginners. Others go skimboarding when the waves are gone as the day begins to end. With some beers in hand, Xavier Rudd's songs on loop, and the company of friends (and even with the strangers there you'll eventually be friends with), the skies in Liwliwa turns into a beautiful canvass of violet, yellow, and red. Breathtaking.
If one could only point to one thing that makes Liwliwa feel home, it must be the people. From the hostel staff to the owners and servers at the local eateries, they welcome and embrace you with such warmth and familiarity, even if it's just your first time. They remember your face and greets you the next morning as you walk past their stores.
The vibe upon entering Liwliwa is good but in just a few hours time especially after catching some waves, a down time at the beach, and some good conversation with the locals, it becomes nothing short of great.
How to Get There
Ride a bus from Cubao or Pasay to Iba, Zambales and tell the driver to drop you off at San Felipe.
From the bus stop, look for tricycles and tell the driver to take you to Sitio Liwliwa.
Where to Stay
There are a number of hostels and inns in Liwliwa but highly recommended is The Circle Hostel.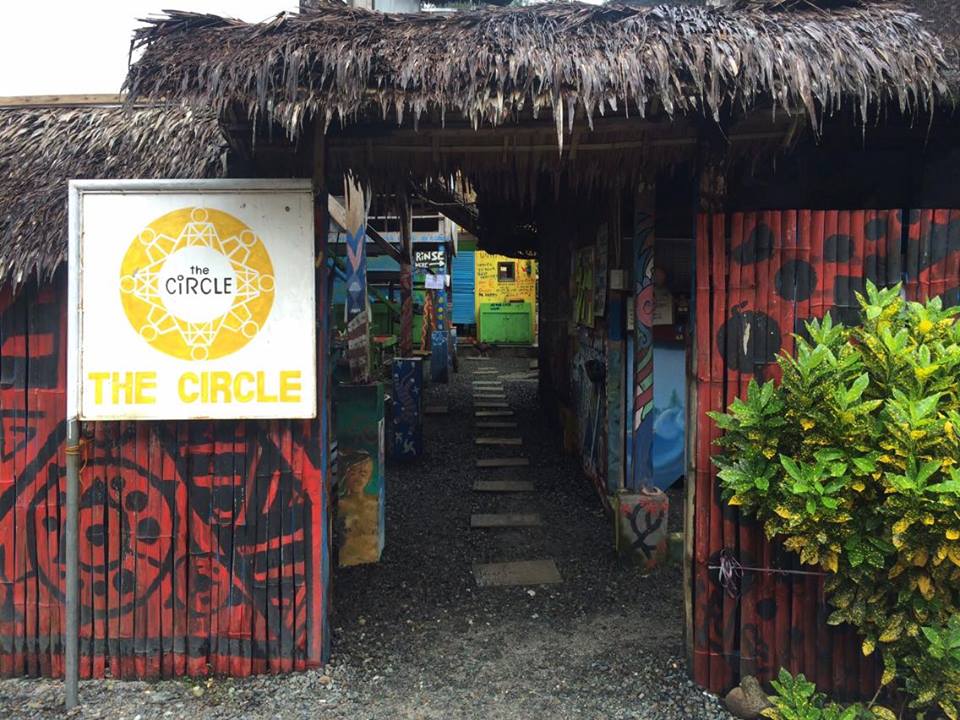 It's known for its quirky design of quotes, art, and other colorful bits and pieces plastered and written in almost every corner of their wooden sheds. The accomodation are very basic and an interesting choice would be to stay in a hammock.
The staff are uber-friendly and accomodating. The freshly brewed coffee in the morning is amazing, too!
Where to Eat
Mommy Phoebe's offers delicious, homecooked meals and refreshing fruit shakes at very affordable prices. But the highlight would be the staff who are like instant aunts taking care of their little nieces and nephews.
Ate Fely's offers the best and generous servings of Silogs (rice-viand-egg meals) and cheap, cold beers!