It maybe the second smallest province in the Philippines (and the smallest in the entire Mindanao) but Camiguin Island is definitely big in natural charm, enchanting attractions, historic sites, and warm people.
The island is home to a number of dormant and active volcanoes, earning it a title of being an "Island Born of Fire." Mt. Vulcan and Mt. Hibok-Hibok, among others, and their natural activities have shaped and reshaped this island into what it is now — a piece of paradise blessed with hot springs, cold springs, waterfalls, sand bars, and century-old ruins.
The adventure begins by either taking a direct flight to Camiguin or a flight to Cagayan de Oro (via Laguindingan Airport), then a bus or van to Balingoan port, and a ferry to cross to Benoni Port in Camiguin.
The island is filled with humble resorts and affordable inns so accommodation is not really a problem. Unlike many Philippine destinations, Camiguin is still relatively sleepy, quiet, and simple. There are several tourists around but it has still remained serene — perfect for a weekend getaway or a respite from busier destinations in your itinerary.
The biggest attraction here is the White Island, a beautiful horseshoe-shaped sandbar just 15 mins ride away from the northern shore of Mambajao town. Boat rental only costs P450 for a group of 6. The sand is fine and the waters are cold and calm. Mt. Hibok Hibok provides a breathtaking backdrop to this stunning white sand bar in the middle of turquoise waters.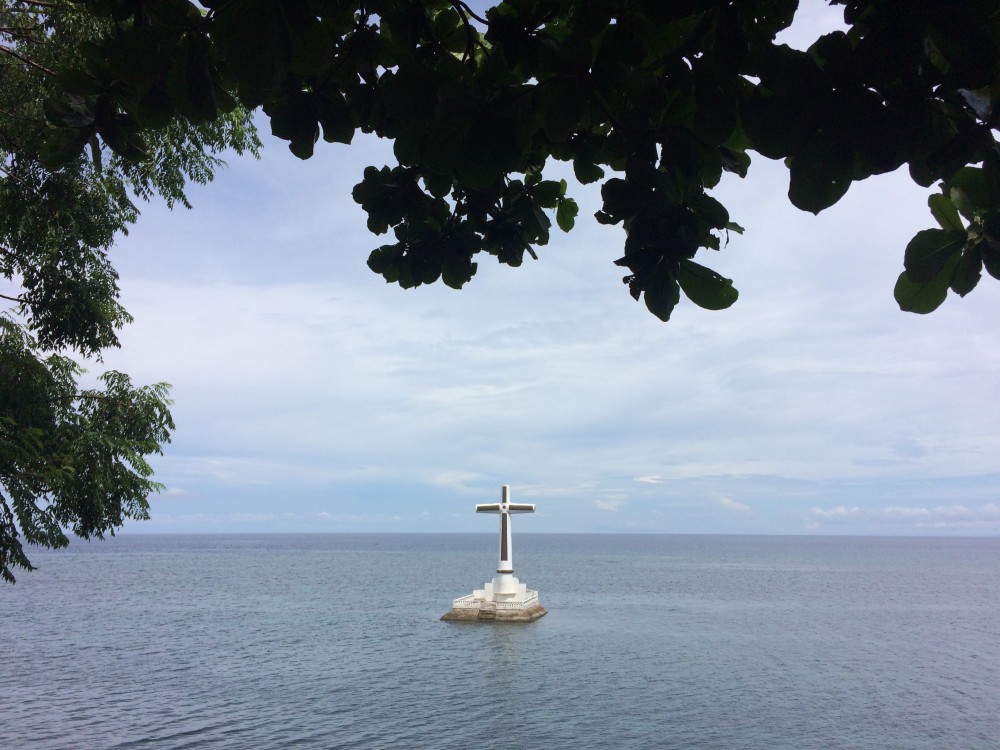 Other major attractions can be visited in one day. Rent a motorbike to go at your own pace or an entire van if you are traveling with a group (one multicab only costs P1,700 for a whole day tour, including gas and driver). The next big draw is the Sunken Cemetery, a graveyard submerged into the sea after years of eruption of Mt. Vulcan. From afar, a huge cross can be seen as a marker for the submerged gravesite and can be reached via a small boat for a very minimal fee. The waters surrounding it are clear and the graves have become home to colorful corals and fish making it a beautiful and unique snorkeling site.
The tour then takes you to the Old Catarman Church Ruins where a 100-year balete tree can be seen. Proceed to the Sto. Niño Cold Springs at noon to cool off in its crystal-clear cold waters.
Marvel at the towering 250-meter Katibawasan Falls (and take a dip in its emerald green water which is arguably colder than Sto. Niño's!). And cap off the tour with a visit to Ardent Hot Springs which is perfect as the sun goes down and the cold breeze starts to kick in.
Camiguin maybe small in size but it surely makes up with its amazing sights and wonderful natural attractions. The locals are also very notably hospitable, warm, and friendly. They exude an easiness and calmness that makes your stay much more pleasant.