The quirky streets of Poblacion in Makati, now a gastronomic hotspot, has just become hotter with the new addition on the block: The Smokeyard. Sharing the same space in the newly opened Mekanor Building with new restaurants Wild Poppy, Alamat PH, and Bucky's, this all-American barbecue joint is a meat-lover's paradise.
While you won't literally see smoke coming out by the restaurant, the earthy and woody smell instantly captures and draws you in. Walking inside takes you to a visual mix of wooden and industrial from beautiful wooden tables and interesting warm lamps from steel pipes.
The main attraction is of course the food: smoked meats and a wide array of sides to choose from. The place is perfect for hungry tummies or those who simply want a mouthful of sumptuous meats rubbed and smoked to perfection.The stars include beef brisket and ribs, pulled pork, pork belly, and chicken wings — all go best with their in-house barbecue sauces.
The good thing about Smokeyard is that you can order these meats in small portions (50 grams) so you could get to try a little bit of many things.
Complementing the rich taste of the meats are sides that include coleslaw, mac and cheese, vegetables, smoked beans, and dirty rice (fave!). And rounding up this earthy treat is a glass of house-made and freshly brewed iced tea. But heads up! Don't get disappointed that the rib meat don't fall of the bone (when every other restaurant tells you it's the way it should be), owner and pitmaster Troy Conine explains it's how it's supposed to be done: tender yet still intact.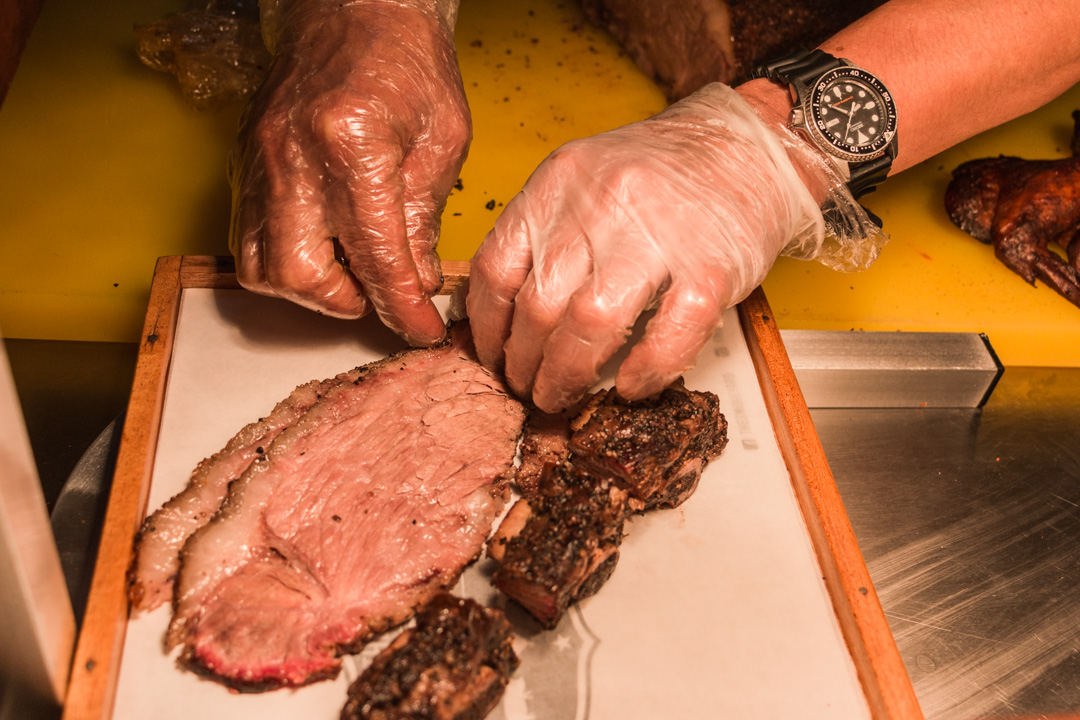 The Solo Plates option is a real treat, too. On a wooden tray you get 100 grams of pork, two chicken wings, and a choice of two sides. An additional portion of meat does not hurt either. The meats noticeably get cold fast so it is best to devour them right away. But it is the slightest of disappointment as the taste makes up for it, and a splash of fire sauce gives the meats a final kick.
Overall, The Smokeyard is definitely worth trying. The staff is friendly and there's a chance Troy will be the one bussing out your plates, complete with a big smile and a quick remark hoping you enjoyed your food. And you'll undoubtedly say yes!

All Photos by Claudia Aotriz