There is no better way to escape the city heat than to head to the beach. After all, it's better to bake yourself under the sun by the sound of the waves than with the honks of cars and jeepneys. So if you are itching to hit the ocean without having to go too far from Manila, Crystal Beach in Zambales is one of the nearest and sweetest beach escapes you can have!
Tucked in the town of San Narciso, Zambales just about 4 hours away from Manila, Crystal Beach has become a favorite weekend getaway place for people living in the metro. And it's not surprising why. The beach property is so expansive with many accommodation options to choose from yet it does not feel crowded and cramped. There is definitely a lot of breathing space a tired city soul is just looking for. Interestingly, instead of palm trees standing tall, pine trees dot the area giving a breezy, calming feel.
Crystal Beach features several bungalows, huts, stilt cottages perfect for group of friends and even families. But if your squad likes to rough it and be a little adventurous, they also have several campsites near the beach where you can pitch a tent and sleep under the stars. Although frequented by a lot of guests especially during the weekend, the entire property is clean and well-maintained, definitely a plus when all you want to do is get away from the clutter and relax all day.
The beach is wide and clean that comes in a mixture of sand and volcanic ash. The property has also amped up the shore with stylish huts and Instagrammable fixtures without being tacky and still maintaining the rustic, laidback vibe of the entire place. There is no shortage of wash stations and shower areas.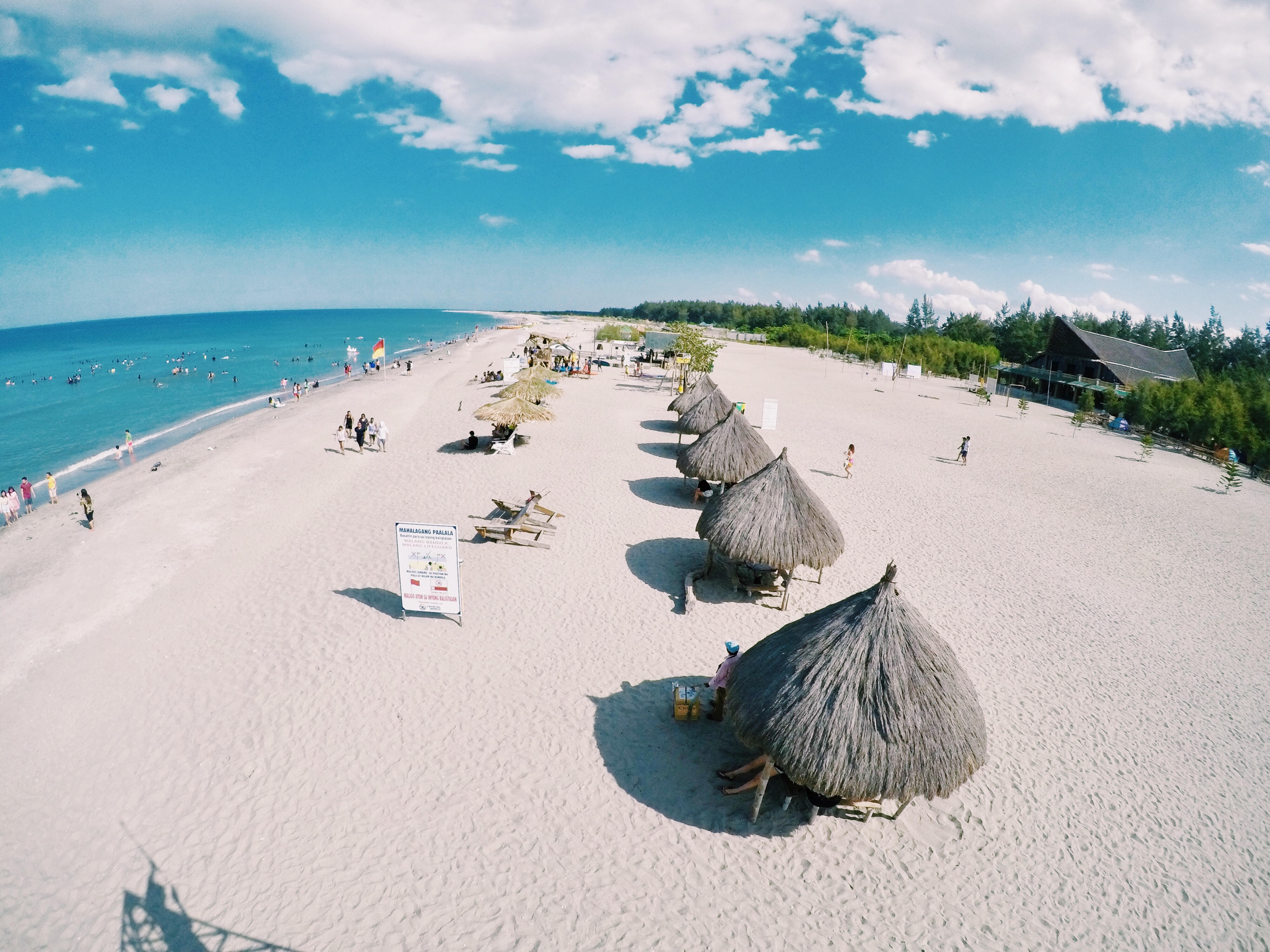 There are restaurants inside the property selling refreshing shakes and delectable meals. They even have a common grilling area if you want to cook your own food!
Crystal Beach is also known as a good surfing spot especially for beginners. For only P400 per hour, you can already rent out a surf board and it comes with a rash guard and a Quicksilver Surf School instructor. The waters in Crystal Beach have a rip current but what is laudable about the management is they made sure to place many warning signs, flags to indicate the swimming area, and hardworking lifeguards on the lookout every second you are there.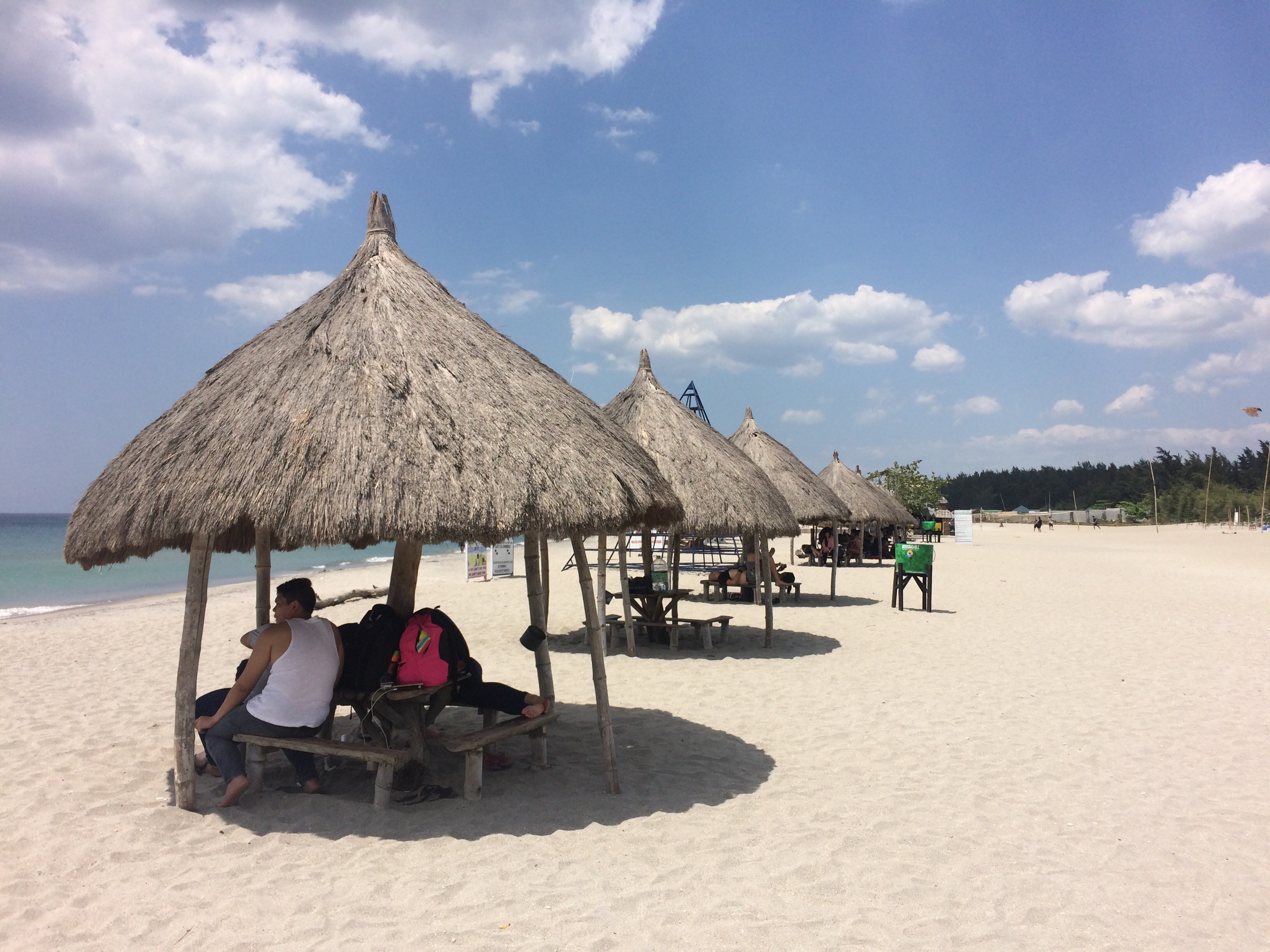 If surfing does not catch your fancy, then you have come to the right place, too. Crystal Beach is pretty much designed for chill mornings and lazy afternoons. And that's the beauty of the place: it strikes just the right balance between serenity and activity and comfort and adventure.
If you're looking for white-sand, palm-fringed beaches you see in Philippine postcards then this is not the place for you. But a sparkling gray shoreline dotted with pine trees and blessed with swells for surfing does not sound too bad at all either. Now you know where to go when you want to escape the city for awhile!
Tips:
Check their website crystalbeach.com.ph for a full list of all their accommodation types, amenities, and facilities
They charge a corkage fee drinks to be brought inside
There are many available parking slots in case you want to bring a car
How to get there (commute):
Take a Victory Liner bus bound for Iba or Sta. Cruz, Zambales. Their stations are in Cubao, Pasay, Caloocan, and Sampaloc. The ride takes about 3-4 hours.
Tell the driver to drop you off at San Narciso. Landmark is the San Sebastian Catholic Church.
Ride a tricycle and tell the driver to take you to Crystal Beach Resort. Trip takes about 10 minutes.